Emergency call center for your alarm service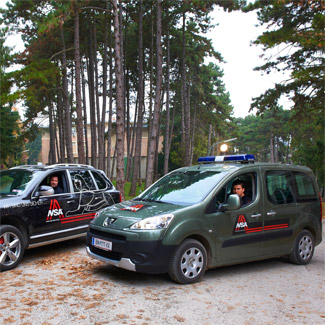 We offer protection for your property and your personal quality of life. Take advantage of our security concept for both private and business sectors. Our work follows clearly defined terms of reference and structured work schedules. Documentation of our work is a matter of course.
Operational Readiness.
Our emergency call centre is at your disposal all year-round, 24 hours a day. In the event of an alarm, a specially trained team will be alerted. This emergency call team is always prepared for immediate action and able to evaluate the incoming routine and emergency calls concerning burglary, robbery, fire and emergency alarm systems and initiate, monitor and evaluate defensive measures without delay.
Security technology: Alarm and Video Systems.
Customized solutions for your needs!
Taking safety, comfort and secure alarm monitoring into account, we plan your individual alarm system for either private or business sectors without product restriction. When planning your video system, we exclusively use high-quality products, which are customized to your requirements. By this means, we offer an ongoing and comprehensive surveillance in private and business sectors. We provide efficient and specialized solutions for store detectives, thief traps etc …
In the context of our surveillance technology we offer:
• Alarm systems cases

• Documentation of all operations

• Accompanying persons in secure areas of your company

• Servicing of alarm systems

• Conference management – reception, accompaniment and support of your customers

• Management of ID's, keys and key systems

• Patrolling of buildings and grounds

• Security headquarters

• Surveillance of entrances to grounds and buildings
Every kind of surveillance can be implemented.
NSA specializes in the combination of technology, experience with the criminal mind, knowledge of correlations, of the continual changes in types of crime and consequently, the appropriate reactions.